Women in Communications Social Media Day 2019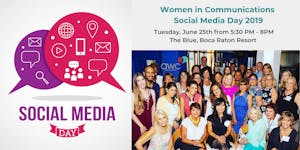 Event to be held at the following time, date, and location:
Tuesday, June 25, 2019 from 5:30 PM to 8:00 PM (EDT)
the blue
501 East Camino Real
Boca Raton, FL 33432

Join The Association for Women in Communications, South Florida to celebrate Social Media Day 2019 on Tuesday, June 25th from 5:30 PM – 8 PM.
Mashable launched Social Media Day in 2010 as a way to recognize and celebrate social media's impact on global communication. Today, social media is the heart of global communication; and since its inception, Mashable's been using social media to connect between cultures, movements, and super-fandom. ~ via mashable.com/smday
Boca Resort is a private club. RSVP is required, Please use the Eventbrite link to RSVP and to be added to our guest list.
We encourage everyone's prompt arrival to enjoy the breathtaking sunset views from the top 27th floor of the tower.Guests will receive Happy Hour Drinks Specials and complimentary pass hors d'oeuvres generously donated by the blue. This event is open to members and non-members.Event hashtag: #smdayBoca #awcsftalktales
Share this event on Facebook and Twitter.
We hope you can make it!
Cheers,
The Association for Women in Communications South FL.